Ozgur Yucesan is the perfect example of how fast you can progress in your hospitality career if you are passionate and dedicated about your work. After traveling the world to build his experience working as a hotel sales manager, he's now the Director of International Sales for JW Marriott Bucharest Grand Hotel in the capital of Romania.
He recently sat down with Hosco to discuss the nuances of his job, his quick progression through the career path, and why the sales department is absolutely crucial to the success of a hotel.
What attracted you to the hospitality industry in the first place?
I actually chose to pursue a hospitality career when I was in high school. So when I finished Saint-Joseph Private High School in Istanbul, I went to Bilkent University in Ankara, Turkey to study. I knew that a career in hospitality would give me the opportunity to see the world, and it definitely has. I'm only 30 but I've already traveled and lived all over the world. Even during my time in university I went abroad to Finland as part of an erasmus program.
How did you discover the hotel sales manager career path?
Well, when you study a hospitality degree, you have plenty of options in front of you.  There are operational departments that we call front of the house and then there are departments that are more administrative or commercial like sales, finance, human resources, which we call the heart of the house.
While I was studying, I had the opportunity to do two internships with the Front Office, one internship with Sales and Marketing, and one Management Training Program which was great. I really enjoyed the internships with the Front Office, as understanding the operational departments were really crucial. 
After all, it's the valet driver, receptionist, bell boy or welcome agent who makes the first impression on a guest. So when I finished the first three internships, I knew I wanted to work in hotels but I also wanted to pursue a management role at the heart of the house, focusing on Sales and Marketing. 
That led me to a management training program with Dusit Thani Dubai. Two months of the program were dedicated to sales and marketing. After those two months, I knew sales would be the path for me but it was still useful to go through the rest of the course to understand how the rest of the departments operate.
What's the main task of a hotel sales manager?
It can depend a lot on the market or the property that you're working in. However, the bottom-line expectations from a sales manager will always be similar: get the numbers.
Yes, we're part of the service industry but it's important for all hospitality salespeople, including manager and directors, to understand that we are the most revenue driven department in a hotel. Which is crucial to keep in mind because the success of the other departments depends on our performance.
Even just one booking can have a ripple effect throughout the hotel. The bell boy will have luggage to carry. The kitchen staff and waiters in the restaurant will have people to cook for and serve.  That person might go to the spa for a massage and then the spa team benefits. So, every sale matters and has an impact.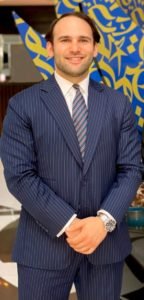 What education or experience does someone need to do your job?
Getting a degree in hospitality management is a good start and will definitely put you a couple steps ahead. You'll already have the core understanding of how a hotel operates by the time you leave university.
But there are sales professionals in hospitality from many different backgrounds so if you have the right experience and profile then the specific degree you have becomes less of an issue.
It all comes down to having the mindset of a salesperson. Basically, some people just have a natural talent for this. It's great that we now have the ability to take some courses, masterclasses, or even go through articles on websites like Hosco to learn how you can apply their skills to a new job or industry.  
How did your experience at Bilkent University help you in your career?
It was really important for me to look at the curriculums from all of the school options I had to understand what their core mission and values were.
Although I had the option to study abroad in countries like France and Switzerland, I chose to stay in Turkey and study at Bilkent University. Their program matched my expectations and aligned with what I was looking for in my education. Plus, it was located in my own country where the tourism industry contributes almost 12.7% to the GDP.
Their focus on understanding technology and how we could leverage it to benefit both companies and customers was ahead of its time for our industry and really made me take them seriously. The professors were also extremely encouraging and generous with their knowledge which made me even more excited to join the industry when I left school.
How can a platform like Hosco be useful for recent hospitality graduates?
I think the key reason to use Hosco is that it's purely made for hospitality professionals and the hospitality industry. It's great to have a platform tailored just to us; not all industries are that lucky. So, I think people should really engage with it to see how it can benefit them.
Whether it be to find an opportunity or follow what's going on with market trends in the industry, it's really helpful. They don't print weekly or monthly magazines like they used to.
I think the process for signing up and creating a Hosco profile is a great exercise because you have to provide answers that will help you create a CV if you don't already have one. Some of those questions can even help prepare you for your first job interview.
I think all hospitality schools should use it or at least encourage their students to use it as a way to find work, build new skills, and make connections in the industry.
Do you have a work philosophy to pass on to someone who is just starting out in a hotel sales department?
I would tell them to always focus on the personal touch because small things can make a big difference. The focus on creating special experiences is what makes us hospitality professionals and not just someone taking an order or providing a service.
I think storytelling is a big part of it, especially in the sales department, because when we are basically meeting with a B2B procurement or travel manager, we are telling them a story about the experience that their travelers will enjoy when they sign a contract for their guests to stay with us.
The second you create this trust, then that's when you gain that client for a longer term, sustainable business partnership. That's how you create your repeat business and sustain your job and living. 
It all starts with listening. And after that, telling your story about the product and services, highlighting how they can benefit your client. But to build trust, you truly have to listen to their needs and tailor a proposal with options to meet their objectives and goals as much as you can.
What's your main piece of advice for someone starting in the hospitality industry today?
The first thing would be to have the confidence to ask questions. If you never follow up to find out more about a topic and understand it better then you will be stuck not progressing very far in your career path. 
Never be afraid to ask questions. Most leaders and managers see it as a positive thing because it shows that you're engaged, interested, and trying to improve. Having a curious but confident attitude will show your leaders that you're humble but motivated. It's the best type of professional profile a company can invest in.
Can you describe your love of hospitality in one word?
Passion!
If you aren't passionate about serving people or providing guests with an unforgettable experience then this isn't the industry for you.
– – –
For anybody who wants to get involved with hospitality sales, Ozgur is a great person to model your career after. If you think you've got what it takes to drive revenue to your hotel, check out the open hotel sales manager jobs available on Hosco today!